During follow-up talks in Heerenveen and Leeuwarden, people from the audience approached theater maker Fabian Claes Jansen and journalist Lara Billie Rense to thank them. Sometimes in tears, sometimes with a spontaneous embrace. These were not only people who themselves struggled with their gender identity or parents of young people who suddenly saw what their children were going through. There were two 'part-time women' – male during the week at work, female at the weekend – but also cisgender people.
All this was after the performance Gemma made by Fabian Claes Jansen and who recently made a try-out tour of a number of Frisian theatres. Jansen lives and works in Friesland, theater De Harmonie in Leeuwarden is, together with DeLaMar Theater in Amsterdam, co-producer of this production. In Gemma a man speaks who finds out that he also wants to be a woman. We follow him and her in their quest to live together in one body. The story is partly based on the fateful life story of a transgender woman from Leeuwarden, partly on Jansen's own new experiences. The actor realized during his research for writing Gemma that he also has a feminine and a masculine side in him. Since then he calls himself bi-gender.
Also female roles

Jansen has been playing roles in various productions such as the musical for twenty years He believes in methe movies Men's hearts and Men's hearts 2 and TV shows like Up The Floor and Mission Earth. In Samuel Beckett's play Endgame he played a wonderful role, as well as in Grinding head from PeerGroup about a farmer with suicidal thoughts. Especially because of the role of André Hazes in He believes in me, still a super macho, he got a certain image. Jansen: 'Yes, Hazes and how I now play Gemma are completely different things. But that's why I'm an actor. What I do know is that the time of romkoms is over for me.'
Jansen and Rense heard the life story of the Frisian transgender woman from a social worker who had guided her and was concerned about her fate. Jansen: 'Because I make films and theater about social subjects with my production company Fabuch Social Cinema, I started to study gender themes in general and in that life. I started reading books on the subject and talked to many non-binary and transgender people. Gradually I started to recognize things in myself. For example, that from an early age as an actor I also wanted to play female roles, but that was never allowed or possible. The right step was over Gemma personal, from my own perspective as a bi-gender on how such a quest works, with her story in mind.'
Because he thought this subject was so important and wanted to organize an impact campaign around the performance, he contacted journalist and presenter Lara Billie Rense, who has been calling herself non-binary since last year. Rense: 'I've had those kinds of feelings since my early childhood, but I've parked them all these years. I assumed there were men and women, and nothing in between. Last year I decided that before I turned 50 I had to start living the way I felt inside. 'To you speaks the first non-binary radio presenter in the Netherlands', that's how I am the broadcast of News & Co started on Radio 1. Then we moved on to the first subject, the situation in Russia and Ukraine.'
Soft activist

Rense presents the conversations with the audience after the performance Gemma. In Friesland, this has resulted in equally harrowing, positive and moving stories. A seven-part podcast has also been created, Hi, I'm new, which Rense and Jansen present together and in which transgender and non-binary people and scientists have their say. The photo exhibition also travels with the performance #Myowngender by photographer Sevilay Maria, as well as the They/Them Bookshop, with books about transgender and non-binary people.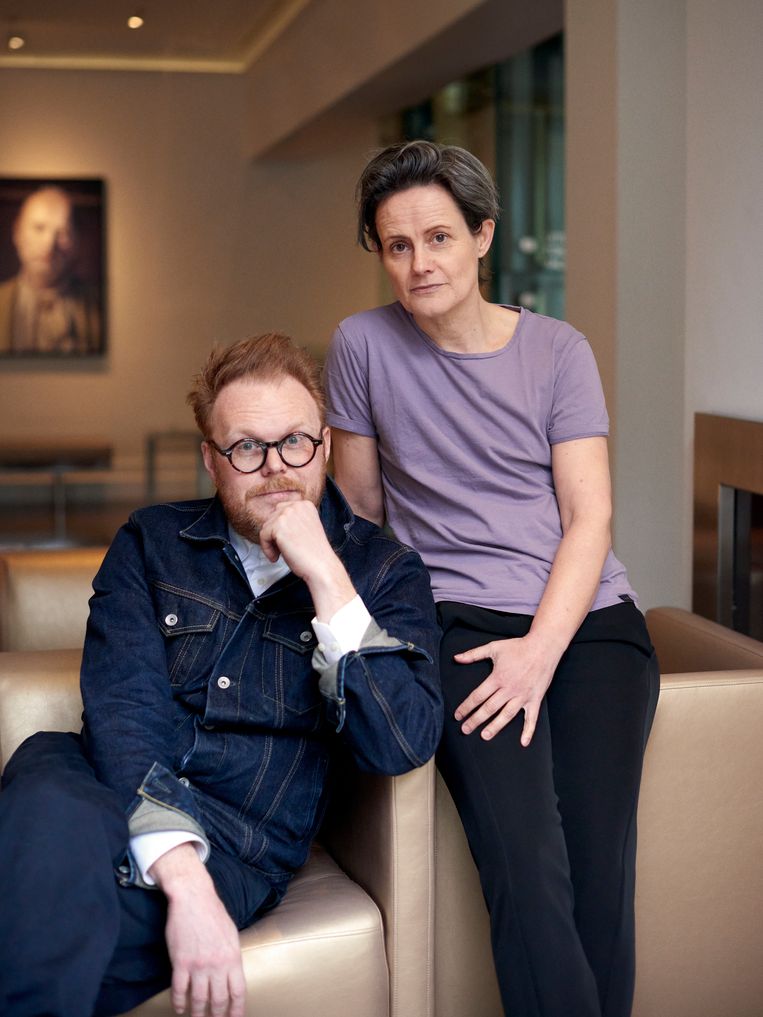 They want educational theatre Gemma not to mention, that term from the 1970s comes across as rather dated. Jansen is, however, a great fan of Het Werkeater, which at the time made performances about homosexuality, health care, old age and being different. Jansen: 'We want to Gemma show that this subject can also be approached with beauty and love. What I missed in theater and film is attention to how such a quest, in which you discover two sides of yourself, works inside.'
Rense: 'For me, this project feels softly activist, we are not going to kick in any doors. In that sense, I have no mission. For me it's about whether you can be who you want to be, and how you can break free from the feeling of being locked up in a world with fixed forms and norms. It won't be a happy-queer show, but it certainly won't be all tragic either. There's transjoy – reclaiming your identity, taking up space and being extremely delighted with it."
Gemma will premiere at DeLaMar Theater Amsterdam on 3/2 and will then tour the country. Information: www.fabuch.nl