Fruit and vegetable cooperative BelOrta closed 2022 with a record product turnover of 507 million euros. Although that turnover will increase by 2% compared to 2021, the global supply has decreased by 4%. For many products, this lower supply is due to a different production schedule compared to previous years, the cooperative reports.
"The major impact of increased costs such as energy, personnel and raw materials has consequences that cannot be underestimated on the production of the BelOrta producers. Growers often have to plan well in advance when it comes to sowing, planting, harvesting or storing top fruit. Such planning carries high risks, especially in uncertain and volatile times. In addition to the uncertainty in terms of production, we also saw changes in the consumer's shopping basket due to unprecedented inflation and reduced purchasing power."
Fruit vegetable production strongly influenced by increased energy costs
In a normal season, according to BelOrta, there could be talk of decent prices for a lot of tomato varieties. However, the increased cost price of both energy and raw materials has a major impact on the operating result of many growers and crops. "In addition, it was noticeable that a lot of vegetable specialties had a harder time than the classic types. The reduction in purchasing power seems to have an impact mainly on products with a higher (kilo) price."
Cucumber production (at BelOrta and elsewhere) decreased considerably compared to last year, which resulted in a better average price. Aubergines had a difficult start to the season but could count on a better second half of the year, while bell peppers had a rather volatile season with a slightly lower result compared to last year. More expensive energy not only has a direct impact on production, but also indirectly, growing fruiting vegetables often becomes a lot more difficult at a lower greenhouse temperature.
"With certain other vegetables, we are noticing a revival of catering and food service after two years marked by Covid. This is reflected, among other things, in the demand for specific grades of asparagus. Nevertheless, the unpredictable weather has resulted in an erratic course of the asparagus season with a good start, followed by a very weak month of May and a somewhat better end of the season in June. We saw the same trend with many leafy crops. A good start, a weak middle part and a better end of the season."
Leek, on the other hand, had another year with two faces. The 2021 growing season went well and resulted in high yields per kilo. In combination with a mild winter, this resulted in low prices in the first half of 2022. "The dry and warm summer of 2022 had a negative impact on production and supply, which allowed the market to recover somewhat in the autumn. Cauliflower had both In terms of supply and pricing, a year with real ups and downs, which however resulted in a below-average mid-year price."
On the chicory market, the situation was very bad from January to mid-August. "Unfortunately, the recovery of the market after this period could no longer make up for the damage suffered. Purchasing power, energy, the international market situation, but also the ever faster emerging, changing and disappearing consumption trends could make or break the result of a product in the past year."
Soft fruit and stone fruit: better summer than 2021
The start of the strawberry season was solid from a commercial point of view. "From mid-April, however, it quickly went downhill, and that for more than a month. The convergence of a lot of production at home and abroad led to a temporary explosion of supply, of course very detrimental to the market price. After this period, demand and supply back into balance and prices got better."
In terms of quality, 2022 was a much better soft fruit year than 2021, which was plagued by an extremely wet summer. "The relationship between supply and demand was fairly well balanced during the Belgian season, resulting in relatively constant pricing. Cherry production returned to normal. A welcome development after the very difficult 2021 season. Thanks to the central hydrocooling and sorting it was possible to work very flexibly in terms of varieties and packaging, both strong assets with a view to smooth marketing."
Notable in 2022 was the further development of recently launched Belorta concept products, namely the BelOplum (plums) and BelOmelon (melons). "Both projects are very warmly received by growers, trade and consumers. Local sustainable cultivation is clearly appreciated. We will continue on this path in 2023 as well."
Storage costs for top fruit are very high – Conference strengthens its position
The last top fruit season was a challenge and not only because of the large volumes of top fruit that were harvested throughout Europe. "The enormously increased storage costs ensure that the product is put on the market more quickly and is therefore offered less widely. This is of course detrimental to pricing. In addition, the war in Ukraine and the expensive transport costs also have consequences for our exports. However, it is not all doom and gloom in the field of top fruit. Our Conference pears are maintaining their good quality image and are finding more and more new final destinations. Moreover, existing markets continue to grow."
As far as apples are concerned, BelOrta had a difficult year as a result of the excessive European productions. "At last autumn's harvest, many batches were also offered for sale immediately due to the high storage costs. This put considerable pressure on the market. Lower European stocks at the end of 2022 make us hope for an improvement in early 2023."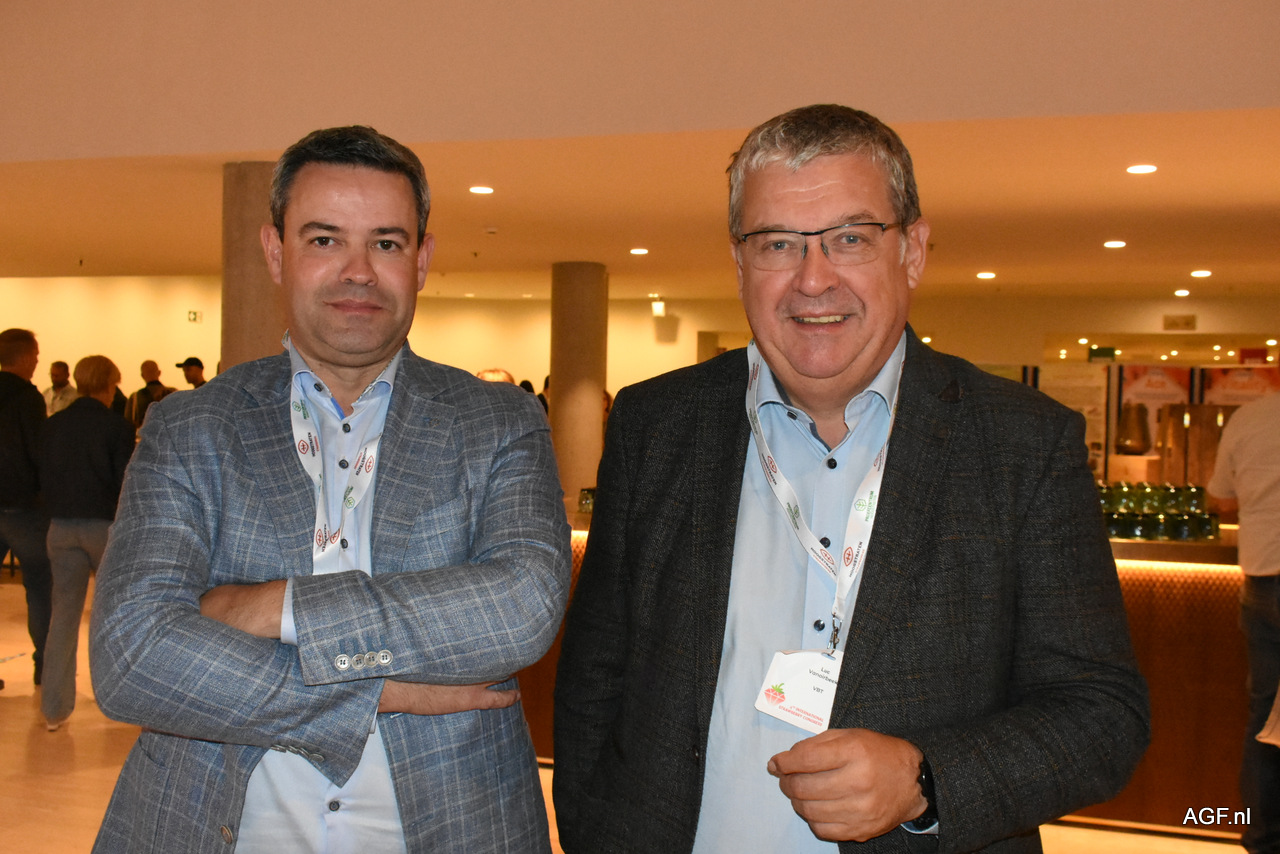 Philippe Appeltans and Luc Vanoirbeek
Impact of decline in purchasing power on organic fruit and vegetables
Just as with some specialties and convenience products, organic products also have a significant inflation impact. "Certain occasional organic buyers are already reaching for a cheaper alternative more often and this is reflected in the sales figures. However, there was also positive news on the organic level. Last summer's warm weather had a positive effect on the quality of our organic products. soft fruit, which benefited sales and consumption, especially compared to the extremely wet 2021."
The drought also often has an effect on the calibers of many fruits and vegetables. Smaller sizes also often lead to a lower supply. In an inflationary year such as 2022, this does not always translate into better pricing, while this is necessary for the profitability of organic producers. "However, at the end of 2022 we noticed an improvement in demand and we hope to continue on this momentum for 2023 as well."
The roll-out of the CO2 reduction plan fits in with the pursuit of more sustainable production and trade
"We published our annual sustainability report at the beginning of October. We are working steadily and with results on fixed themes such as partnership with growers, reducing the ecological footprint, care for people and society and an eye for natural and healthy products," the cooperative continues. BelOrta has been allowed to call itself an SDG Pioneer of the UN for several years now. "An award that is only awarded to companies that achieve far-reaching results in terms of sustainability objectives. But that does not mean that we are resting on our laurels. We are fully committed to reducing our CO2 emissions by 42% by 2030 (compared to 2020 This plan was confirmed and approved by SBTi (Science Based Targets initiative), with which BelOrta belongs to a select group of Belgian companies that have already set clear objectives in this area."
BelOrta blows out 10 candles and continues to build for the future
In 2023, BelOrta will celebrate its tenth anniversary. "Of course we will reflect on this first lustrum. However, our focus is on the future. In the development of our cooperative, we have regularly been confronted with many challenges over the past 10 years. As if fruit and vegetable cultivation, with all the unpredictable weather conditions and the ever stricter legislation was not yet strict enough, we were thrown into a heavy Russian ban in 2014. This meant that a valuable market was lost for our apples and pears, but also for many fruiting vegetables. the global energy crisis and sky-high inflation made for a very bumpy course."
"Political profiling urge, which unfortunately sometimes results in poorly nuanced regulations, is detrimental to the hard work of our producers. Just think of the ever-changing packaging legislation, the discussions about MAP7 and the consequences of the nitrogen restriction for the further development opportunities of horticultural companies. Healthy food production is not self-evident and governments and other responsible parties should be more aware of this. Food production should not become a political currency. It is a daily task of many passionate and proud family businesses."
The fact that BelOrta continues to believe in the future and wants to take its responsibility in striving for and realizing a living income for its cooperatively organized growers can be seen from the letter of intent that was concluded with the Belgian Fruit Auction at the beginning of February 2022. "At the end of 2022, the talks were concluded and sealed in a legal agreement. It is expected that the Belgian Competition Authority will grant its final approval by mid-2023 with the aim of achieving full operational integration by 1 July 2023. The appropriate communication is conducted for the benefit of the growers, employees and customers involved."
As a cooperative of more than 900 growers, or rather 1300 growers after integration with BFV, BelOrta is happy to take up the gauntlet and look forward positively with great enthusiasm. "We are convinced that cooperation pays off and that everyone in the chain, from field to plate, will reap the benefits. In the coming year, our proud BelOrta growers will again dedicate themselves every day to the tastiest, highest quality vegetables and to provide the juiciest fruit. Locally grown, super fresh, full of flavor and amazingly enjoyable for everyone at the table."
For more information:


BelOrta
Mechelsesteenweg 120
2860 Sint-Katelijne-Waver, Belgium
+32(0)15 55 11 11
info@belorta.be
www.belorta.be