A recent Bloomberg article kicked in: call centers are severely understaffed and the customer experience is deteriorating accordingly.
Waiting times at call centers have tripled in recent years. I admit it – the survey that led to this conclusion was conducted in the US. Furthermore, the average duration of a call appeared to have increased, as more customers than before the corona pandemic need a chat. But the bottom line of the survey – customer experience suffers significantly from the acute shortage of call center agents – almost all customer experience managers in Europe will also confirm.
We've noticed that many agents don't have the right tools to do their job well and be productive through and through. That leads to a lot of frustration. Especially when there's an element we've already focused on in our latest Customer Experience Benchmarking Report: 4 in 5 organizations agree that CX teams (ie contact center agents) are often overwhelmed with work.
The most obvious solution is that contact centers simply need to hire more agents. Sufficient staffing would significantly alleviate or even eliminate the problem of excessive workload. But how do you attract new talent when staff turnover is caused by too much workload and a lack of the right tools to solve that problem?
One thing is indisputable: to address this issue, organizations must first and foremost equip their agents with effective resources. These resources can help to be more productive and customer-oriented, and ultimately increase employee satisfaction and engagement. And that in turn leads to higher customer satisfaction. According to 89 percent of contact center managers, more employee engagement would significantly improve the quality of the customer experience, according to a 2019 study by Frost & Sullivan.
Artificial intelligence and automation make the difference
There are many tools that can effectively and effectively support contact center agents in solving customer problems. Most fall into one of these two categories: automation and artificial intelligence (AI).
Automation relieves agents of tedious and time-consuming tasks that computers can easily perform. This is also known as RPA (robotic process automation). An example of this is a chatbot that obtains the necessary information from the customer: from customer data and the reason for the call to an overview of previous interactions with your company. This generally leads to a more efficient, pleasant and productive interaction, and thus also to happier customers and employees who feel more involved.
Because the contact center agent already has all the necessary information before the conversation with the customer, both can immediately to the point come. The agent should not interrupt the call to look up data and the customer should not repeat information.
With simple questions or requests, the chatbot can even help the customer without human intervention.

Maarten Copini, Customer Experience and Intelligent Business Practice Lead Europe at NTT Ltd.
With simple questions or requests, the chatbot can even help the customer without human intervention. In more complex cases, the chatbot passes on all of the customer's information to the contact center agent during the call. But the end result is always the same: both customers and employees have a positive feeling about the conversation.
Other tools to optimize engagement
There are several other ways to improve contact center agent engagement and work-from-home agent performance.
Gamification is back on track to keep agents motivated, make sure they don't lose sight of their performance, and boost team collaboration. Add to that some healthy competition and the opportunity to earn rewards, and employee motivation and engagement are guaranteed to be on point. You can also integrate gamification into the contact center tools. A performance dashboard links your goals to your contact center KPI performance in real time. Or use the e-learning dashboard to determine exactly what training a contact center agent should follow.
A good work-life balance is essential, especially for agents who work from home. Thanks to an advanced workforce management tool with smart schedules and work schedules – including best practices such as exchanging and agreeing working hours and the possibility for agents to indicate when they prefer to work – your employees remain productive, motivated and healthy.
You also cannot do without a solution to increase the involvement of your employees. This largely automates the work of checking compliance obligations and assigning scores for interactions. Such a system combines data from your contact center's routing platform with quality management and workforce management tools.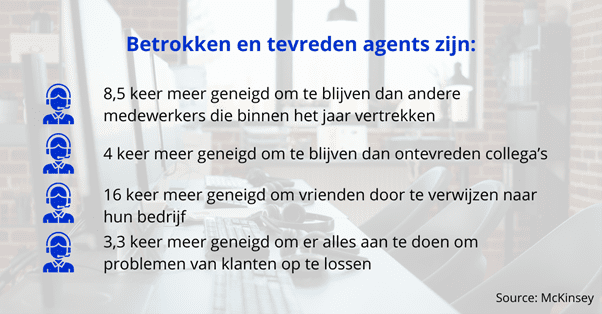 Common sense
According to this McKinsey research, engaged and satisfied call center agents are:
8.5 times more likely to stay than other employees who leave within the year
4 times more likely to stay than disgruntled colleagues
16 times more likely to refer friends to their company
3.3 times more likely to go above and beyond to solve customer problems
In any contact center, it's all hands on deck to retain agents. The sector is struggling with high staff turnover and a chronic shortage of employees. Providing contact center agents with the tools to improve engagement and satisfaction is more than just an act of humanity. It's just a matter of common sense.
---
This is a contribution provided by Maarten Copini, Customer Experience and Intelligent Business Practice Lead Europe at NTT Ltd. For more information about their services, please click here.