Atlasser Channah has been working on it for weeks: looking at trees. With diligent work she has tackled her front garden and there are now trees and plants instead of tiles. Are there buttons already attached? Why aren't the buttons coming out yet? On the other side, the buttons are already off. Will they do it this year? Look, the first petal is out!
It is fascinating to see how that bare, brown trunk with a few thin branches on it transforms into a sea of ​​​​green every year. At first you could see straight through the branches, weeks later that is no longer imaginable. And suddenly it is also buzzing in your tree, full of insects and birds. That is why it is not surprising at all to stop and think about trees.
Trees are crucial
We cannot say enough about the benefits of trees. For example, we previously wrote an article about all ecosystem services that trees provide. Trees help biodiversity and store CO2 on. In addition, a tree provides cooling, both through evaporation and through shade. That's nice during that very hot summer day. Trees store water and delay drainage to the soil during heavy rain.
Trees are not only crucial for nature. We humans also benefit from it. Just looking at greenery is relaxing for our mind. Green invites you to exercise and increases the chance of encounters. Your mental health improves. The WHO also recognizes the importance. The more trees there are in the streets, the fewer people use antidepressants.
Why the Week of the Tree?
Trees are therefore extremely important for our living environment. That is why there is the Week of the Tree. How can we make even better use of the positive effects of trees? The program of the Week of the Boom is diverse and various research institutes and companies tell their stories. The Week of the Boom is combined with the Boominfodag. This is how it is about choosing the right tree. Especially in urban areas, trees often have to compete with infrastructure and housing. For example, bicycle paths should not be destroyed by the roots of trees. The correct tree must also be placed in the new development of placing trees on buildings, on highway tunnels and on bridges (for example at Utrecht Central Station). Trees have different growth needs.
The sessions on climate change and adaptation at the Boominfodagen on 11 and 12 May try to answer various questions. For example, researcher Jelle Hiemstra (WUR) will discuss the Climate-robust assortment: alien or indigenous? on which trees are best planted in cities. Because can our native trees still cope with climate change? Should we keep planting native trees? Can these trees withstand extended periods of drought and don't miss the winter frost? For example, should we move to species that occur around the Mediterranean Sea? And how will biodiversity change?
Cooling is also becoming increasingly important in summer, especially in cities. What can city trees offer to this end, and what do they need to do so? In the session Every drop counts by Waternet and Ghent University you will receive answers to these questions.
How does the Atlas put the tree in the spotlight?
As Atlas Living Environment, we also think trees are very important. Trees provide a better climate in your street, especially in the neighborhoods that are vulnerable to climate change. These are neighborhoods where climate risks are high. There is a higher chance of heat stress and flooding. Neighborhoods with a relatively high number of frail older people and where the quality of life is poorer are also vulnerable to climate change. Vulnerable elderly people are lonely and/or less mobile. They do not quickly seek refreshment and are less mobile. Residents of neighborhoods with poorer quality of life often also have lower incomes. This allows them to spend less on making their immediate living environment climate-proof.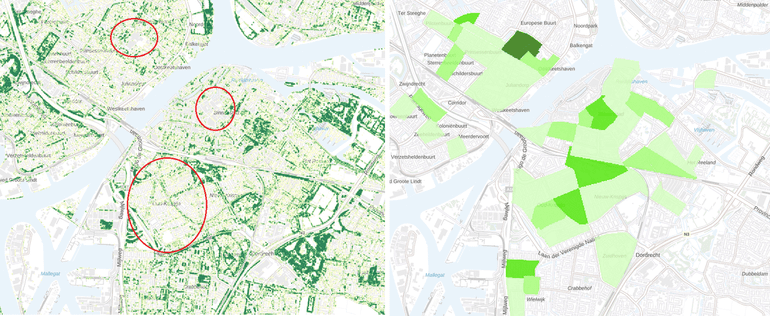 Let's take a look at Dordrecht. On the map Vulnerable neighborhoods to climate change (right), the green markers indicate the vulnerable neighborhoods. On the Trees map (left) you can see where trees are in Dordrecht. What happens when you combine these cards? In places where the vulnerability of the neighborhood is high (dark green), considerable gains can still be made by (for example) planting trees. These are the areas circled in red.
Trees as a monument
In the Netherlands there are even trees that are monuments. According to the Tree Foundation, these are trees of national importance. This is because they are very old or particularly beautiful. Or they have a rarity value or an image-defining function for the environment. The Atlas map below of Leeuwarden clearly shows that the monumental trees (colored leaves) contribute to a cooler environment (yellow and blue colours).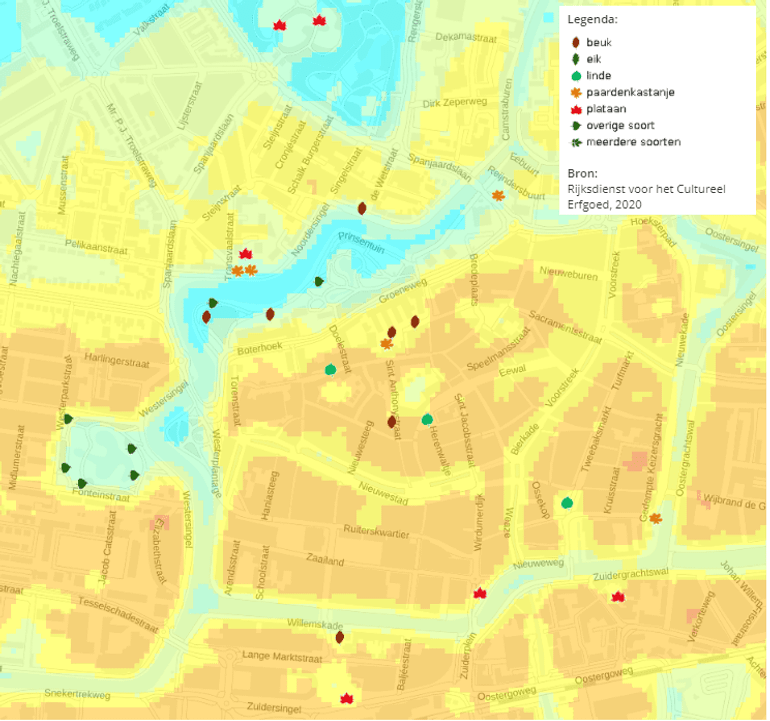 Put the tree in the spotlight yourself
Do you also want to do something for the tree yourself? Very good! Go to Check your spot and see how your neighborhood scores on greenery and shady trees. Not happy with the score? Discover on the Atlas page tips against climate change what you (together with your neighbors) can do. Do you prefer to get inspired first? To conclude the Week of the Boom, a visit to the Floriade Expo 2022 in Almere is on the program. Of course you can also go there yourself. Be inspired by the theme: Growing Green Cities.
And the trees in Atlasser Channah's front yard? She can no longer find the forest for the trees. Okay, don't exaggerate… She can't see across the street anymore.
More information?
Click on the links below to see what there is to do during the Week of the Boom.
Read more?
Text: Channah Betgen, Atlas Living Environment
Photos: Atlas Living Environment; State media library; Pixabay
†