Cancelen, TikTok, Google, 24-hour economy, climate crisis, 1.5 meters, gay marriage and refugee: all these current references dash by in the brand new adaptation of Midsummer Night's DreamWilliam Shakespeare's famous comedy from 1600, about the wonderful play of lust and love, enchantment and jealousy, passion and desire. With the support of Musis & Stadstheater Arnhem, Toneelgroep Oostpool, Introdans and Phion, Orkest van Gelderland & Overijssel join forces for a colorful spectacle that teleports Shakespeare to the present with much fanfare.
In the funny prologue, Shakespeare travels through time – ping! – to raise the curtain in 2022 for this brutal interpretation, set in a seaside city, where no one should waste their time sleeping or let their thoughts be confused with dreams. It takes day and night to become the world's most prosperous city – watch the makers cross Shakespeare with critique of neoliberal thinking.
With this addition of a sleeping ban, playwright Vera Morina instructs four desperately in love youths – dubbed "suckers for love" – to circumvent this law on their own, outside the city gates, in a magical fairy forest where they become the plaything of a fighting royal couple in divorce. They drift from Oberon's realm of nightmares (read: subconscious fears) to Titania's dream world (read: secret desires). In between, a satirical, cross theater club sneers at discussions about inclusion and diversity. And then there's the hardened Duke Theseus, overcome with grief over the untimely death of his parents, who is about to marry his husband.
Morina maintains the basic structure of the comic Shakespearean entanglements, but also makes it her own satire. Sometimes so full, colorful and youthful that it often resembles an overconfident end-of-year performance at a secondary school. The famous dog-eared scene by amateur player Spoel – here with an ego that is too big and a gas mask – is completely missed as a result. In the naive roles of Oberons and Titania's children, the makers also turn to exaggerated fun with references to Hersonissos, which is popular among young people.
Fortunately, director Daria Bukvić has directed a fantastic cast, full of wonderful young talent who know exactly how to handle all the fast-paced parody of romantic teen series and social media jargon. Shelley Bos and Jatou Sumbunu make impudent types of girlfriends Helena and Hermia. And Isabelle Kafando packs a punch as the authoritarian director Nana Mouskouri. The nicest and sharpest role is without a doubt climate refugee Yordi, who rides along in Shakespeare's wake from the Ice Age to the present and causes disruption and revolt throughout the evening, played hilariously by Laura De Geest with a German accent. With her commentary on light-hearted entertainment and her plea for socially critical theatre, De Geest is the highlight of this colorful evening.
The twelve Intro dancers graciously dance the graceful guests inside the city gates of Athens. Once in the fairy forest, they crawl erratically moving across the floor in magical-realistic forest costumes. Nevertheless, the meaningful presence of the dancers could be exploited more strongly in Regina van Berkel's choreography. Now they only act as an ensemble, sometimes almost as a show ballet, while they could also have represented the subconscious of the characters individually. Unfortunately, none of the dancers stands out.
This is different with the orchestral musicians of Phion, who move remarkably freely through city and forest, on the efficiently and colorfully decorated stage by Marloes van der Hoek and Wikke van Houwelingen. Bassoonist Gordon Lang, for example, plays a lively part in the absurd theater club with his almost human, coarse-grained sounds. With waltzes, rhapsodies, allegros, andantes and moderatos, the musicians provide the musical recipe for this multi-coloured plea for dreams, fantasy and desires, with a hint of Frank Zappa to tie in somewhat with the times.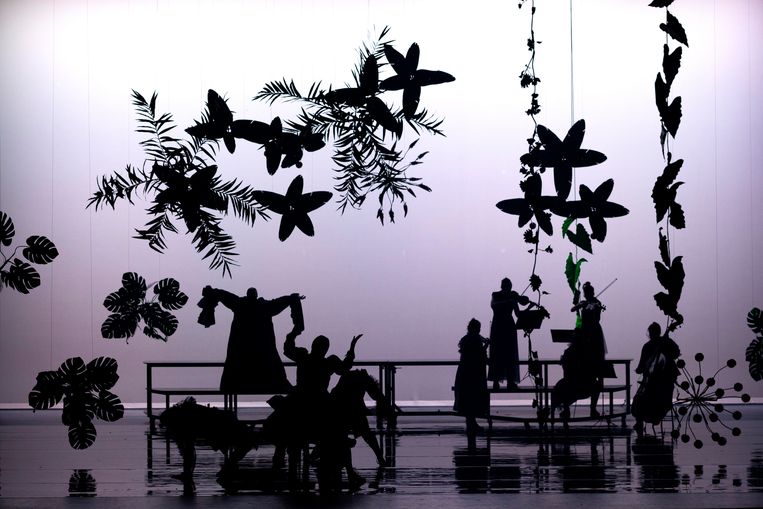 JAZZY ROLLS IN THE ELF FOREST
Phion's thirteen orchestral musicians play in this Midsummer Night's Dream all their compositions without sheet music. As a result, they navigate smoothly through the large tableau of twelve dancers and twelve actors. They perform no new compositions, but a selection of existing work made by musical director Joris Nassenstein, from impressionist baroque pieces (by Rameau and Debussy) to percussion works full of jazzy rolls for the roller-balling in the elfin forest, and then a psychedelic trip to Frank Zappa.
Midsummer Night's Dream

Theatre/Dance/Music
By Toneelgroep Oostpool, Introdans, Phion, Orkest van Gelderland & Overijssel and Musis & Stadstheater Arnhem. Text: Vera Morina after William Shakespaere. Directed by: Daria Bukvic. Choreography: Regina van Berkel. Musical concept: Joris Nassenstein.
2/4, Arnhem City Theater. Tour until 28/5.