We already know that the corona crisis has given e-commerce a boost. But what are the new developments in online marketing? Five developments from which we expect more in 2022: first-party data, conversion modelling, voice search, visual search, livestream e-commerce.

What a time to be alive! In addition to all the drama that the COVID crisis is causing worldwide, it is also an exciting time in which developments in our field are moving very quickly. This makes it challenging to stay on top of developments and estimate the impact.
Consumer behavior has definitely changed and the digitization of consumption is moving faster than ever before. At the same time, we see, as usual in our field, that there are many hypes whose value cannot yet be estimated (hello NFTs and Metaverses!). Fortunately, we can estimate the value and impact of some developments, which is why we have listed the most important (technical) developments for you.
1. First-party data first
For years, data has played a crucial role in building detailed visitor profiles and serving targeted (personalized) campaigns. For years we have relied on the available first-, second- and third-party data. Where cookies were previously presented as the solution for relevant messages, we now see that the excessive use of cookies has ensured that consumers – due to unnecessary (re)targeting and increasing data leaks – have become skeptical about sharing their own (read: third-party) content. party) dates.
Consumers demand more privacy, including transparency, choice and control over how their (personal) data is used. As a result, popular browsers such as Chrome, Safari, Firefox have complied with this wish by eliminating third-party cookie(s) from 2022 (Chrome: 2023). A development that will further increase the demand for first party data. The phasing out of third.party cookies will mean that we will be less able to identify consumers from next year, which will ultimately also have an impact on the relevance of online advertisements and conversion attribution (see conversion modelling).
The challenge for the marketers is to entice consumers to share data with your brand, so that you can continue to offer relevance and thus work from a 'first-party data first' strategy. You can think of setting up specific lead generation campaigns, using new channels such as SMS/conversational, or optimizing content to generate more organic traffic (SEO). If you are not working on this as a brand yet, you will really miss the boat and get behind the competition
2. Conversion Modeling
We've talked about it before, it's time for a new attribution paradigm. The disappearance of the third-party cookie will make many traditional digital result measurements a lot more complex in the coming years. For the past decade we have leaned on multi†touch point-attribution in which, on the basis of cookies, it was analyzed what a path to conversion looked like and what role different channels played in it. Now that the path to conversion is becoming increasingly difficult to measure due to missing cookies, the modeling of conversions is increasingly being looked at as a new standard result measurement.
We are familiar with the modeling of results from traditional media. We use variables such as media budget or media pressure to model sales results per channel. In the offline world this is known as Media Mix Modeling and we are thankfully seeing more and more brands experimenting with these measurements. Google also sees benefit in this and for an in-depth look at this subject, we recommend this presentation of Hello Fresh on YouTube. We recommend checking this out to see for yourself how prepared you are for 2022 with conversion modeling.
3. Voice Search
Many of us, in addition to working from home, may have spent the past two years playing games or binge from TV shows on Netflix or Hulu. But there is another impact of this global pandemic that you might not expect, which is the growth in usage voice search (voice search for information). According to a recent survey by the National Voice Monitor, the use of voice assistantsand thereby voice search, exploded. For example, 30% of all households use a voice assistantan increase of 57% compared to last year (19%).
Despite the fact that the use of these smart speakers is limited to playing music (52%) or requesting information (42%), we see that awareness, acceptance and adoption are increasing rapidly. Especially among young people, the use of smart speakers and voice search popular. For example, 9 out of 10 young people are familiar with the concept voice assistant and mainly use Google Assistant on their smartphone to search for information, followed by Apple Siri.

It is clear that these developments will have an impact on our traditional search behavior (via Google Search). In addition, this exponential growth is forcing companies and marketers to rethink their long-term strategy in the area of voice-marketing.
It is therefore good to think about the following questions beforehand:
Can I be found via voice search†
what is my tone of voice on voice assistants†
do i have the right one voicedomains registered?
What voice search terms does my target audience use?
4. Visual search
Visual search uses artificial intelligence (AI) technology to help people search for items using real world images rather than text search. Already exist tools that are designed to facilitate visual search. Software like Pinterest Lens and Google Lens are readily available and use visual search to display incredibly accurate and relevant results.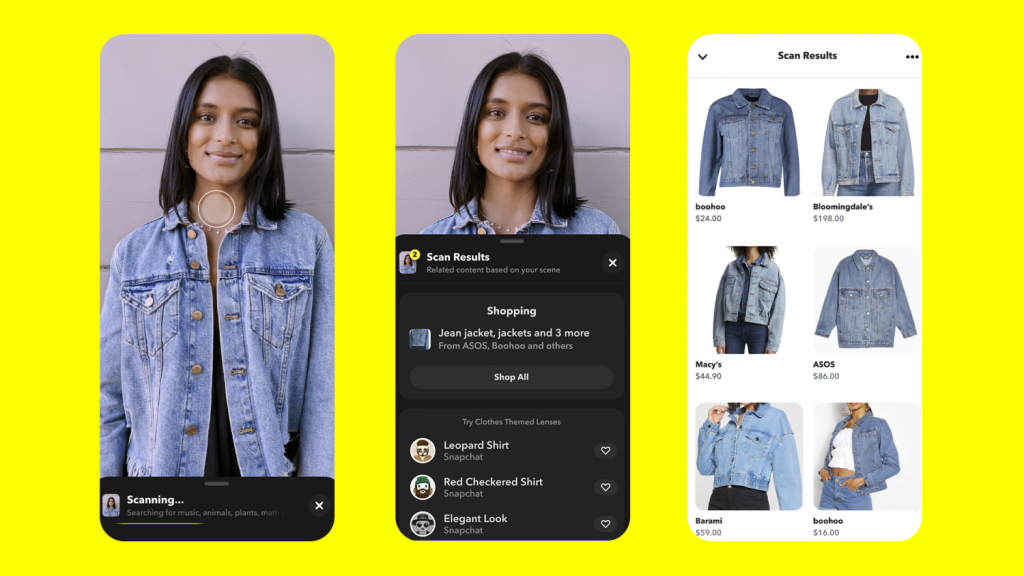 One of the first was Pinterest Lens: it introduced a first-of-its-kind camera search that recommends ideas of things you see around you in the real world. Since its launch in 2017, Pinterest's Lens can now recognize 2.5 billion home and fashion objects. Just two years later, Google released its own app (Google Lens) for consumers, which allows them to search for relevant information or products based on photo recognition. The technology of visual search has recently also been applied in the browser of Google (Chrome). This makes it possible for users to search for exact or related information or products based on content on a website – photos, videos, text.
The developments around visual search do not stand still. For example, Google will launch the MUM (Multitask Unified Model) functionality in early 2022. This allows a user to take a photo and immediately ask a question about it. By linking the question directly to the specific object (in the photo), you can quickly find the desired search result.
These enhanced technologies will drive impressive growth of visual search† According to multiple studies, the global visual search market will grow by 9% in the next two years, especially as consumers embrace the technology en masse.
5. Live Stream Ecommerce
Of the five developments, the rise of livestream e-commerce is the most one long shot† Not because it has not proven its worth – just look at China – but more so when it will finally land and grow in the Netherlands. As described in the previous article: all signals are green. In the Netherlands we know a large influencer/internet-celebrityculture, the e-commerce market is mature, the live streaming technology is here and brands want to be where buying consumers are: on social platforms and marketplaces.
Livestream e-commerce combines entertainment with shopping and can remove barriers that online shoppers sometimes experience, such as missing information and reviews. It is precisely with the personal aspect that a live environment can offer that it is possible to remove these barriers and take the experience of physical shopping to a new digital level.
Which brands are it? first mover-have an advantage? We will experience it in 2022. One thing is certain: our profession will not become duller in 2022, and serious work remains to be done.
About the authors: Bas de Kok is Digital innovation manager and Youri Harmsen is Strategic consultant and managing partner at Springbok Agency.
Want to stay informed about the latest news in your field? Follow Emerce on social: LinkedIn, Twitter and Facebook.