Walking through the Hippodrome de la Prairie park in the French city of Caen on a winter day in January 2020, you could have seen a man in his fifties running endlessly in near-perfect circles: jumping over a ditch, stumbling at times, lost in thought. He runs that pattern for a total of eighty hours, until a path is carved into the grass.
Those who had kept watching would have seen him slip over the ditch during one of the jumps, crash into the side, break his arm and fall into the icy water. After which, wet and injured, he continues his rounds. The runner is visual artist Jeroen Jongeleen (53). High above him hangs a drone that films his circles very sharply.
In the exhibition Running in circles in the Kröller-Müller Museum Jeroen Jongeleen shows six almost perfectly worn circles. 'Sometimes I run for fifteen hours per circle, sometimes eighty and sometimes only fifteen minutes', he says in his studio in South Rotterdam. 'I use my feet in special and often inaccessible places to record a circular track. From a Natura 2000 area to a closed port area.'
The result is grooves in a landscape. He films his last rounds from a great height. Jongeleen can be seen as a tiny figure in the picture, his mental and physical trials remain invisible. 'The circles are a commentary on broken-down cities where the citizen is just a consumer, who should not leave his mark on the landscape,' he explains. He started with graffiti art as a teenager: Running in circles is genuine anarchic vandalism. 'It is a statement against the municipality, against bureaucracy, against regulations.'
Not so long ago he was a Rotterdam street artist, who definitely couldn't run long distances. He made accessible art that denounces public order. During the cutbacks of Rutte I (2011) he daubed Museum Hilversum with texts by GeenStijl ('The only good artist is a dead artist').
'I wanted to hold up a mirror to society about its attitude towards the arts. As I watched, documented and lived through the public space, I slowly became fascinated by the shortcuts that people take through parks, ignoring the neatly laid out paths. I wanted to make such an elephant path myself, an ode to the anarchist in every person. Everyone uses those paths, from the punk to the foreman of the SGP.'
At first he sets his sights on an elephant path in grass. 'Before that becomes visible, you have been running for about four hours. That's how long it takes a trained runner to run the Rotterdam Marathon. But I wasn't a trained runner at all. I smoked and I drank. In short: it was a stupid idea.'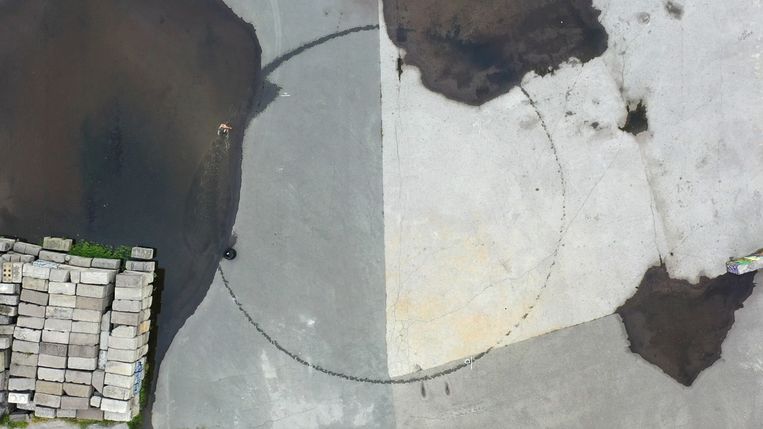 Still, the idea simmers for two years, until his brother takes him along on his run. "So I plodded after him in skate shoes. He had signed me up for a 15-kilometer performance run the following month. I didn't want to be known, so I trained that summer. When I ran the performance run, I thought, I don't want to stop. I saw a way to work towards making an elephant trail. So I signed up for a half marathon.'
Jongeleen gets a taste for it. A half marathon is followed by a full and even a double marathon. In the end, Jongeleen runs 150 kilometers to Brussels in one go in 24 hours to give a talk in a gallery. A little over a year later, he jogs 680 kilometers to Berlin in twelve days. He has the journey filmed and presents the recording as an art project. "I became more and more of a running artist."
After those absurd distances, the idea of ​​the elephant trail reared its head again. 'I started to limit myself to circles, which I thought was the purest form. It was the heaviest pattern I could think of. You have no distraction. A marathon in the Alps is tough, but every step is a reward. The banal repetition of running in a circle for fifteen hours is much more grueling.' In the past two years he has made more than fifty circles.
One of the six videos in Kröller-Müller was shot in the port of Rotterdam. 'With pipelines and situations like that. That day, a corrosive gas, nitrogen fluoride, had started leaking about half a mile away. Nitrogen fluoride doesn't stop biting until it gets to your bones. That day, two port employees were burned because they were exposed to it. Really hardcore. In the meantime I ran a bit further between hissing pipes through which that stuff was flowing. I like to explore the edges, but if I had known this I would have waited a day.'
In another video, Jongeleen is nearly hit by a truck. The locations and the physical exertion are downright dangerous. The owners of the locations therefore rarely give permission. So he doesn't ask. 'A no-trespassing sign is relative. If I am not allowed to go somewhere because there is radioactive waste, I understand. Other than that, I don't let anything stop me. My art is too important then.'
Jeroen Jongeleen, Running in circles† Kröller-Müller Museum, until 30/10.
The first rounds

Jeroen Jongeleen finds the locations for his circles through a long search on Google Maps. To get them around properly, he puts a pole in the center of the circle he wants to walk. There is a spool to which he attaches a rope. He holds that while running until a first path is worn. Then the pole and rope can be stored.