Mel Brooks was born Melvin Kaminsky on June 28, 1926, in Williamsburg, New York. His mother already had three sons, she hoped the fourth would be a girl. When the doctor told her after the birth that she had given birth to a beautiful little boy, she seems to have replied: 'Would you like him?'
Melvin was 2 when his father, Max, died of tuberculosis. To honor him, Brooks has named numerous of his characters as well as his oldest son Max. The father, like grandfather Abraham, who came from Gdansk, then still called Dantzig, was in the herring business. In America, the Kaminsky's continue to sell herring. They rented a warehouse on Essex Street in Manhattan and had day laborers sell the herring on carts.
In his memoir, which Brooks at age 95 titled All About Me! My Remarkable Life in Show Business published, he writes that he wanted to be a comedian because he had such a happy childhood and wanted to continue it.
My first encounter with Mel Brooks was in 1995 when I was in a movie theater in New York The Producers saw, Brooks' first film to direct, came out in 1967. Prior to that, he was primarily a writer of the highly successful 1950s comedy television show Your Show of Shows† His career actually started in the United States Army during World War II when a lieutenant asked, 'Is there anyone in this unit who can sing? Dancing? Making jokes or playing an instrument?' To which Brooks replied, "All of the above, I can sing, dance, joke and I drum." Indeed, Brooks had worked as a teenager in a resort in the Catskills as pool tumblera boy who, after lunch, had to keep the mainly Jewish elderly awake at the edge of the swimming pool by means of jokes, presumably on the basis that a sleeping guest cannot order cocktails and other delicacies.
Guaranteed flop

The story of The Producers will certainly be known among film buffs. A shady Broadway theater producer named Max Bialystock (Zero Mostel) discovers thanks to his accountant, Leo Bloom (Gene Wilder), that a flop can also make you a lot of money. (Decades later, Donald Trump discovered something similar, but this aside.) Bialystock decides to have the worst script imaginable directed by the worst director, a guaranteed flop. In his search for such a script, he comes across Franz Liebkind, an old Nazi who doesn't believe the Führer is really dead, went looking for him in South America and eventually settled in New York where he finished the play. Springtime for Hitler wrote, an ode to the Führer, that much should be clear. Springtime for Hitler was also originally the title of the film, but the producer, Joseph E. Levine, told Brooks that no movie theater would want to put the word "Hitler" on its facade. So became The Producers The Producersexcept in Sweden, where they had no problem with Springtime for Hitler†
It was not the first time Hitler had been used as a character in a comedy. The most famous example is The Great Dictator by Chaplin from 1940, a poignant film, despite the sentimental ending. Chaplin saw as early as 1940 – America didn't see Hitler's expansionism and racial cleansing yet, neither did Stalin, many thought it wouldn't go that fast – what others still didn't want to see years later.
As even the unsuspecting viewer can already see coming Springtime for Hitler a huge success and as a result, Bialystock and Bloom end up in jail – having to pay their investors out, which they can't, having promised countless investors 100 percent of the profits – where they continue their work as charming con men.
Faints

Few listens as closely as humour, genius and stupidity are rarely so close together as in this genre, and as almost every comedian can agree, it's a mystery why a laugh doesn't happen overnight. In his memoirs, Brooks therefore quotes the renowned English actor Edmund Kean, who, when asked on his deathbed how he felt, replied: 'Dying is easy, comedy is hard.'
Like another great Hollywood director, Billy Wilder, Brooks realizes that comedy needs a story; if the comedy fails, do you still have the story. He himself described his method when he was still writing for Your Show of Shows, as follows: 'Everything we wrote was based on truth.' In other words, and this has been said more often and in many ways, comedy reveals the grotesque that hides beneath the tragic.
Even in the best comedies there are inconsistencies, so is in The Producersfor example, the Swedish secretary of Bialystock, who represents little more than tits and ass† Now we would label this as sexist, the bigger problem is that the character isn't funny. Hitler – no tits and ass – as a character in the hands of Brooks, on the other hand, turns out to be extremely funny and during an award ceremony he also thanked the former dictator extensively for this.
Today, moral judgment is less and less often left to the public. The judgment should be spelled out to avoid misunderstandings, for example the discussion about captions in museums. Comedy, however, exists by the grace of misunderstanding, laughter is an outlet for what is experienced as crossing boundaries.
Brooks still assumes that the public knows as much as he does; that fascism was an extremely bad idea does not need to be explained, nor does the Fuehrer need to be demonized, he did that himself. Any obvious moral lesson is foreign to Brooks, and such lessons are, of course, the enemy of comedy, I would say of art.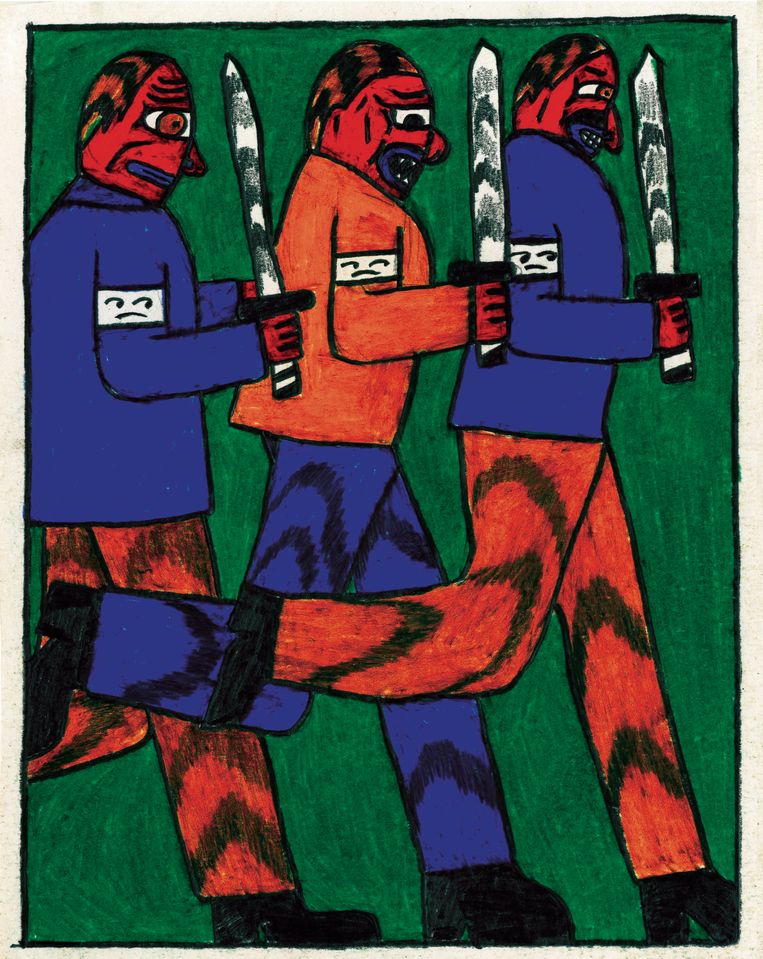 Initially, a film producer, the legendary Lew Wasserman of Universal, had asked Brooks if Springtime for Hitler not Springtime for Mussolini could be, as he expected some problems with Hitler as a musical star. Brooks warmly declined the offer and happily went ahead with his plans, claiming that he always submissively promised to follow any producer's directions and then ignore them.
A musical about Hitler remains a desecration of the horrors, but that is why it works as a comedy. There is also a philosophical thrust to it, regardless of whether Brooks intended it that way or not. You can ask yourself whether the realism of Steven Spielberg in Schindler's List (1993) is no greater desecration than Brooks's. After all, that film seems to take the position that we can depict the most extreme violence in a realistic way, that we can know exactly what happened.
Further invites Schindler's List the viewer from identifying with the victim, also for educational reasons. Now our culture has become an almost permanent invitation to identify with any victim and it is precisely this invitation that is at the root of sentimentalism, to avoid the word 'kitsch', that plagues our culture. The instant identification with the victim is the quickest way to the good feeling, to sedation.
A liberation

A musical about Hitler, written by an admirer of the Fuhrer, albeit an admirer with some intellectual disabilities, is a worthy response to the grotesque and macabre theater that extreme violence always is. Precisely because Brooks refuses to practice realism, thereby refusing to enter or depict certain places (the camps), his depiction of the Third Reich is sublime. That's partly why I was so impressed with this film in 1995, The Producers was a liberation for me. Brooks can rightly write in his memoir, after the musical The Producers had become a hit on Broadway in 2001 that the Nazis and Hitler have been good to him.
Yes, Brooks overcame Hitler, mostly because he has consistently remained an anti-sentimentalist. The human weaknesses were his stuff and to viewers who desired a different human, he basically said go to another movie, by which he basically meant go to another planet.
Gene Wilder (1933-2016), with whom Brooks often collaborated and to whom he was indebted, has yet to be mentioned here. I don't know any actor who shows what acting is so well, she puts pure madness dosed and controlled in the spotlight. (A similar claim may be made about writing.) Wilder was adequate in The Producersbut phenomenal he is in Young Frankenstein (1974), a black-and-white film, essentially a commentary on the classic 1931 film adaptation. During the filming, Brooks handed out tissues to the crew to put in their mouths if they couldn't contain their laughter again, Wilder and the other actors liked to improvise at a high level.
According to Brooks, Frankenstein is a love story, it is about the love between father and son, although the father has created the son in a strange way and although the son turns out to be a monster. Young Frankenstein works as a comedy so well because Brooks takes the love story seriously.
'Blow life into my creation,' Gene Wilder yells, and as noted in a documentary about this film, this is presumably a universal wish.
Many reproduce, albeit more "naturally" — so far as that word has not become disorganized — than in Frankenstein's case, some attempt to make art, with varying results, others attempt to create themselves; part of the american dream is based on the myth that you can always reinvent yourself. However, only a few dare to admit that they have created a monster. The sample in Young Frankensteinplayed by Peter Boyle, turns out to be a sweet monster, which also contains Brooks's brilliance.
Mel Brooks' worldview: the monster is sweet, but it remains a monster.
Brooks himself on humor

At the end of last year, the memoir of 95-year-old Mel Brooks was published under the title all about me! My Remarkable Life in Show Business† In the book, which reads like "one long 460-page one-liner" according to The New York Times, Brooks writes that humor "brings religious fanatics, dictators and tyrants to their knees faster than any other weapon." The laugh, he also writes, is a 'protest cry against death'.